Laura McCain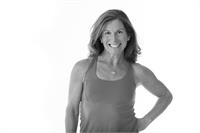 How I got into indoor cycling: I've been a runner all my life and I when I discovered indoor cycling I got hooked. It's a great addition to my cardio workouts. I enjoy the change of pace throughout the ride & the challenges that sprinting and climbing offer to my fitness - all during the same class!
My music
: I play everything from current hip hop and pop, alternative rock and love the old time classics such as the Stones, Bruce Springsteen and The Who. I'm always up for requests, so if there's a song you love with a strong beat, i'll play it!
My ride
: I have found with indoor cycling that I can do my "track work outs" or intervals on the bike. I coach girls XC at New Trier and coaching on the bike comes naturally.
Laura McCain instructs the following:
A little shorter, but just as effective. Instructor will guide you through a great ride that will burn calories, build endurance and make you feel ready to take on the rest of your day.