Shane Edwards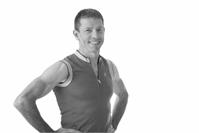 How I got into indoor cycling: Bicycling Magazine ran an article in the February 1997 issue about Spinning. It was the first time I'd seen bicycle training in a Group X format, and I was looking for a way to maintain a base level of cycling fitness during the winter. After a 20 minute promo class I was hooked. I have been teaching for over 16 years. And yes, it worked better than I'd hoped.
My Music
: Everything I've ever listened to. All decades, all genres. A rider may find themselves in a class with music from a different artist every song, or with songs from select featured artists, or even 1 artist.
My Class
: Is geared for those who like to Ride, indoors or out, or who want a challenging workout. It's usually All Terrain, with Intervals (which can be 20 second Sprints, Tabata's, 1-1's, or Maximal Endurance of up to 5 minutes or more), Hills - anywhere from 3-15 minutes or more in length, and Running Intervals of various lengths. Heart Rate Monitors or Rate Of Perceived Exertion friendly.
Shane Edwards is currently not instructing any classes.