Nancy Chase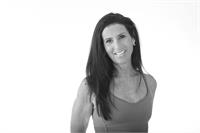 How did you get into indoor cycling?: I have been spinning since (when?) I have been teaching at Spynergy since 2004. I have truly enjoyed meeting new people and being part of such a healthy and rich environment.
My Music : As an instructor, I am very passionate about each and every class. My music is very personal to me and has become a way for me to express myself. I want everyone in the class to partner with the music and enjoy the ride.
My ride: I love bringing people together for one hour a day to focus on their mind, body and soul. I love working in such a positive environment where everyone is there to better themselves.. Ride the music, Feel the Road, Visualize YOU
Nancy Chase instructs the following:
THE Ride abridged (45 minutes). A little shorter, and just as effective! The instructor will guide you through a great ride that will burn calories, build endurance and make you feel ready to take on the rest of your day.




50 minutes of high intensity interval training plus a 5 minute cool down.