Jen Solberg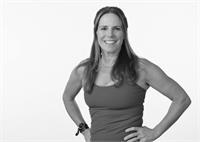 How I got into indoor cycling: I have been teaching exercise since college. From aerobics to step, kickboxing, strength training, boot camp and finally indoor cycling. I love it all.
My Music
: High energy..from Tom petty and the Stones to The Lumineers. There is a little something for everybody.
My ride:
My goal is to motivate riders to work hard and enjoy doing it. Be in the moment mentally and get so much out of it physically. The ride is designed to the beat of the music with varying pace and resistance triggering intermittent intervals and recovery that boost your post workout metabolism and increase your fitness level.
Jen Solberg instructs the following: