Tory Raith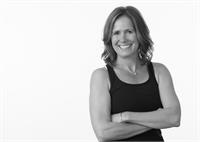 How I Got into Indoor Cycling: My love of indoor cycling began in the early 90's. I love the rush it gives me - there is no better feeling than the end of a great class.
My Music:
The most important thing about the music for me is the energy and the beat. It has to make you want to move!! Outside of being a diehard U2 fan, I try to include everything from current pop to hip hop - think Flo Rida, Katy Perry, Pitbull. I also love old and new rock such as Coldplay, Bruce, Stones and Mumford. Alternative music such as Airborne Toxic Event and Snow Patrol will also be heard in my class.
My ride:
My goal is motivate and inspire people to step out of their comfort zone and get as much as they can from their workout. I use high intensity interval training to help build cardio strength and endurance and plus I just love intervals. The great energy in the room helps all of us work our butts off, burn calories and have fun. It's the best way to start off the day.
Tory Raith instructs the following: