Sean O'Grady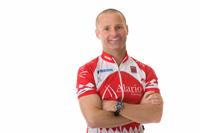 How I got into indoor cycling: I began Spinning to lose a large Irish beer gut, and also started doing triathlons through the spinning journey. Spinning helped me shed 40 pounds over the past 20 years I have been on the bike. I transitioned from tris to marathons about 5 years ago and have consistently used Spinning for cross training.
My music:
Mumford, Goo Goo Dolls, a little Lady GaGa, Foo Fighters, 80s tunes that may bring back scary memories of big hair days, mixed with the 103.5 tunes my kids introduce me to when sequestered in the car. Always a few surprises!
My ride:
I like to climb. I like speed. My rides are a combo of the two. I believe interval training, both flat and on an incline, has significantly improved my running speed. And it is always more fun to do intervals with a group.
Sean O'Grady is currently not instructing any classes.