Armando Valerio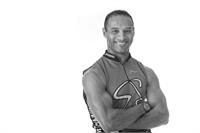 How I got into indoor cycling: One of my favorite hobbies is recreational cycling, marathons and Ironman competitions. In 1997, I joined the Massachusetts General Hospital cycling team and began raising funds to help cure diseases such as multiple sclerosis and cancer. Living in an area with short summers and long winters, my training needed to be taken indoors. In 2000, I obtained my certification as a Group Fitness Instructor through the Johnny G. Spinning Program. A year later I was certified as a Personal Trainer through the National Council of Strength and Fitness and am a certified Sport Nutrition Specialist.
My Music: I like to play eclectic music with beats and rhythms that allow me to coordinate resistance and cadence.
My ride:
My personal mission is to reach as many people as I can and bring happiness and health to their lives through inspiration, coaching, and education on the importance of health and wellness. My training is geared toward triathletes, cyclists, runners and everyone in between.
Armando Valerio is currently not instructing any classes.