Michelle Kane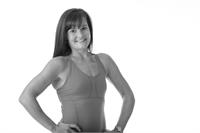 How I got into indoor cycling: Running was my passion until a friend brought me to Spynergy in 2007. Within weeks I was hooked! I have been riding at Spynergy several days a week for the past seven years. I love it so much that this past summer I decided I must get certified and teach at Spynergy.
My music: I choose artists and songs that energize, make you want to move and push yourself to the limit. I play the current pop - Avicii, Rihanna, Flo Rida, Imagine Dragons, but also Hip-hop and Alternative and of course the great bands, Killers, U2, Mumford. I will also reach back to Motown, disco, classic rock.
My ride: My goal is to bring my energy and love of the ride to people of all fitness levels. I want riders to leave feeling more energized, ready to face the day and with a smile on their face.
Michelle Kane instructs the following: