Leah Bostrom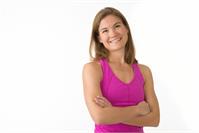 How I got into indoor cycling: After years of training for half marathons, I decided to try a spin class to cross train and was immediately hooked on the energy and focus I gained from the group exercise atmosphere.
My music: I play a combination of the latest and greatest pop, alternative, hip hop and dance, as well as 90's, country and mashups.
My ride:
I strive to create playlists that will be diverse enough to inspire all riders and take pride in finding the best climb and sprint songs!
Leah Bostrom is currently not instructing any classes.